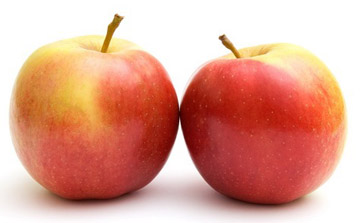 A Fall Apple Picking Excursion
Hanna Greenberg
New England has the perfect climate for growing apples. There are several orchards in the school's vicinity where people can pick their own fruit. You pay an entrance fee, get a bag and you are allowed to fill it and take it home. It is a popular activity for many families to go and spend the day in the beautiful farms. So it is not surprising that a student asked me to organize a field trip to a nearby place. I asked her why we should do it when so many students go with their parents and her answer was that going with friends was a different kind of experience and would be lots of fun.
A sign was put up announcing the trip and twenty-two students signed up. We got a big yellow school bus to take us the ten miles to Honey Pot Hill Orchard. The age range of the participants was about five to fifteen, a situation that at SVS is common and welcomed. The older kids are looked up to by the younger ones and conversely, the older students enjoy having the adorable younger people around, which is the most natural human interaction in any community.  
The weather was a glorious typical New England clear fall day and just perfect for being outdoors. The trees were laden with beautiful apples that were accessible to even the youngest kids and in no time our bags were full. We got to go on a hay ride, to walk a big maze, to eat an apple cider donut, and to buy treats at the store.
All in all it was great fun.
---
Apple Crisp
Lauren Ligotti
This time of year, at Sudbury Valley, might be my favorite. Everyone is excited to be back at school. Students are playing, laughing, and planning activities. The staff are busy welcoming everyone back, organizing the school, and event planning. The weather is cooling down, making it amazing to be outside all day. The campus is gorgeous with all the leaves changing to vibrant reds, orange, and yellow. The energy level is high and infectious to anyone coming onto campus.
This year is particularly special because it is our 50th anniversary! For our first family event of the year, we wanted to do something a little different. Instead of serving the usual snacks, we spiced things up a bit with apple crisp!
Who knew making apple crisp would be so much work? Mimsy and a few helpers started at about 10:00 AM. The hardest part was prepping the apples. So, they created an assembly line a few people peeling apples, a couple of people coring, and a couple of people slicing. This might sound mundane, but it wasn't. Everyone enjoyed each others company, talking, telling jokes, or just peeling quietly. They were able to have fun while completing a tremendous task!
To be honest, Sudbury Valley is such a happy place to be anytime of year! People of all ages working together and getting things done!