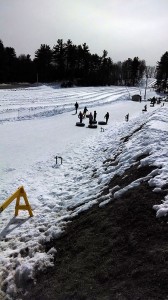 Sometimes what you wish for has consequences that you wished would not bother you. A case in point is the way SVS students who enrolled when they were very young tend to grow up to be persistent -- and capable of getting what they want.
So, quite late this winter, Caleb decided that it would be great fun to have a school excursion to go snow tubing. Obviously you need lots of snow to glide on, and as the Spring approaches the snow melts and the tubing is over for the year. It also is a fact that to organize any excursion from the school takes lots of work. You need to figure out the cost and fees for the trip. You need to get the proper release forms prepared and signed by the parents. And you need to rent a van and attend to many other details that I won't bore you with. I told Caleb all of this, to stop his attempts to get me to get it done as quickly as possible before this season was over. To no avail. For every reason I came up with to postpone the trip until next year, he came up with counter-reasons to do it now. So I caved in, and as a result was teased by my colleagues about my inability to say "no." But by now it was important for me to persist and I got the trip organized.
On the allotted day, Jean, myself and 11 elated kids piled into the rented van, and off we went to Nashoba Ski Resort, which is a forty minute ride from SVS. We arrived at eleven, only to find the place closed, deserted, inhospitable. My heart sank when I read the big sign informing the public that, unlike skiing, which opens at 9:00 pm, the tubing area opens at 1:00 pm. It had never occurred to me that the opening times would be different. How embarrassed I felt! In my rush, I had made assumptions, and now what should I do?
Long ago I learned that with SVS kids it is best to be open and truthful and allow them to see how fallible and human you really are. I expected some groans and "why" questions, but what I got instead was acceptance. I offered to take them to a pizzeria where we could eat slowly to while away the two hours we had to wait. It turned out to be fine. As Jean remarked, these kids love to be together and enjoy whatever they do.
The tubing was exhilarating. Caleb was right to persist and insist that I make the trip happen. I am glad he did.