It was one of those days that everyone was having so much fun, no one remembered to take many pictures. The day was wonderful from the very beginning to the very last second. A day in which the dilemma that was encountered was where to eat dinner.
When we arrived at Welch Dickey Loop Trail, the sun was already beaming hot. The students didn't skip a beat and applied sun block and checked their gear. We set off up the path and didn't take a break until we had already hiked for 30-40 minutes! Everyone was shocked because it felt like only 10.
After about 40 minutes of hiking past trees, climbing over boulders, and up steep rocky terrain, we reached our first lookout point. It was beautiful! This area is one of the times I regret not taking a photo! There were trees for miles and in every direction. We were able to see the road we drove on to get to the parking lot, which now looked so tiny the cars looked like toys. After staying there for a couple of minutes we began moving again, even though this particular spot was amazing. We had much more to see!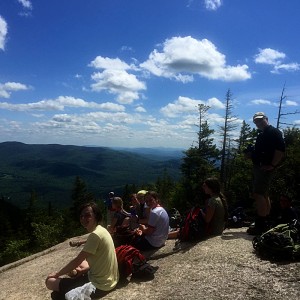 It took us about three hours to get to the Welch mountain summit. Everyone was getting tired; however, no one would admit it. Not one student complained about the heat or the sometimes difficult terrain we crossed to get there. People were just happy to have the chance to get to know someone in the group they may have never talked to before. Besides, there was another summit that everyone was excited to conquer.
To reach the Dickey mountain summit, we hiked another half mile that included rock scrambling and mild bouldering. Finally, we made it to the highest peak of the day! It was another view that was breathtaking (and another time I didn't take a photo but wish I had ☹). Getting to the summit was a relief because the most difficult paths were over.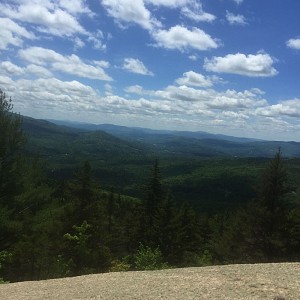 The end of the trail was one of the best views! We traversed across an exposed path, which was a panorama of everything we had accomplished! It was one of the moments where no one spoke because we were all taking in the scenery and silently thinking the same thing - remarkable.
It was a day like no other. Students were given the chance to accomplish something really difficult but worthwhile, and also the chance to get to know their fellow students on a more intimate level. It was awesome to watch everyone have a great time. I am so happy to have been a part of it.