The school year has started with a bang! Students and staff are excited for activities and work to begin. The amount of fundraisers we recently had is a good indication of it!
Now that it is the beginning of October, all of the corporations for the school have met. The students are thrilled to start having baked sales in order to make some money for the projects they want to do or places they want to see.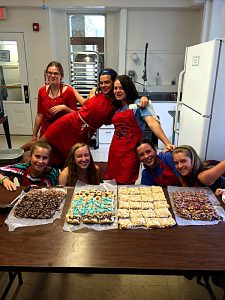 The Arts and Crafts Corporation met within the first two weeks of school. The students attending wanted to generate some money for extra supplies. They wanted to have a fundraiser where they would have fun and make the most profits. They quickly decided they wanted to make rice crispy treats. Their brainstorming proved to be right, they made a decent amount and had a blast doing it!
Next, the Celebration Corporation met and had the same mind set, only for a different reason. How can we make the most money for a moving on ceremony? They decided to bake chocolate chip cookies and sell them with milk. They bought enough products to be able to do two sessions of cooking and selling a few days apart. Sure enough, they were able to make some money to set aside for their party.
There has been homemade pizza and most recently, homemade macaroni and cheese. Watching some students organize themselves and create events is intoxicating to other students who figure out how to do the same things. It is causing an awesome domino effect. Students are realizing their power and place in the functioning of the school and are excited about it.
It is not an easy task to run a fundraiser. Students have to go through many obstacles in order to achieve their goal of making a profit. They have to buy products, find a certified person to help them cook, deal with money and discretionary checks, and figure out the school's accounting system. Oh, and clean up the kitchen so that everything is put away and it is cleaner than when you started! And then get that cleanliness inspected. But, most importantly, they need to make sure their products will sell! However, they do not worry about these difficulties. They work through them and with ease!