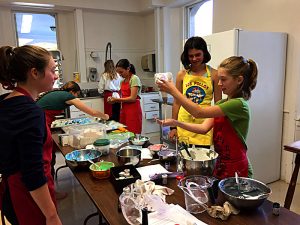 When I was voted in as a new staff member last spring, I knew I'd be doing a lot of cooking. Since the school's inception cooking has been a vital part of SVS's culture. The seeds for my own career as a chef were sown in that same kitchen. I baked multiple loaves of bread with Danny; made moussaka, pastitsio and other exotic delights with Mimsy; and of course apple pies and countless yummy dishes with Margaret Parra.
Last September I volunteered to help with a series of fundraisers for the Art Corporation. Hundreds of cookies were baked with the efficiency of a restaurant staff. We also began making individual pizzas. On the third day of making individual pizzas from scratch, students decided to make each pizza in a different shape. There was a rooster, a candy cane, a heart, and snowman to name a few. These students not only worked like a well-oiled machine as far as preparing and cleaning up the kitchen, they were detailed-oriented, creative, and had fun from start to finish.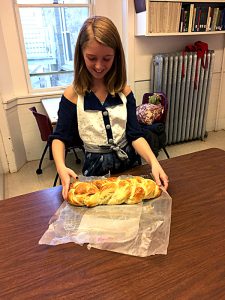 It dawned on me that what I had witnessed during "the pizza variations", was something far more profound than having fun with dough. I wondered if they'd be interested in baking more "high-end" items to share or take home. They would need to pay for the ingredients and commit to six sessions. I ran the idea by them. Some students said "yes" right away, and others who were not part of the fundraisers joined in. Thus, Baking Mondays began. Over the course of six weeks we made Italian cheese cakes, French fruit tartes, brioche, flourless chocolate cakes, Julia Child's apple custard tartes, and linzer tortes.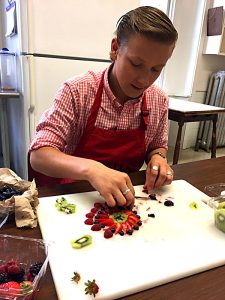 It was during the second week, when we made fruit tartes, when I realized that I was entering new territory. I approached baking from the perspective of a pastry chef. The students viewed their work as artists. In addition to mastering methods and techniques, each culinary creation was truly a work of art. After baking the crust and preparing cream filling, it was time to place fruit on top. There were strawberries, raspberries, blackberries, blueberries, and kiwis to choose from. Also, I showed them a color photo of a fruit tarte—not to imitate but to give them a general idea. The fruit was washed, and based on decades of making fruit tartes, I estimated that in 20 minutes they'd be done; they just needed to place the fruit on the tarte and glaze it. Voila: gorgeous and delicious tartes.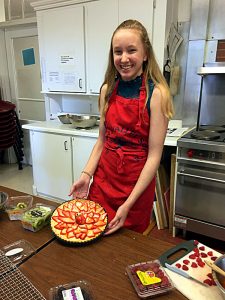 What came next took me by surprise. Students asked for large cutting boards, bigger than were needed to halve berries. They studied the fruit and began experimenting with designs, each developing a tarte concept. One student decided her sole medium would be strawberries. But unlike strawberry tartes I've made or seen in bakeries (halved strawberries in a circular pattern), hers was a delicate flower with paper thin slices carefully overlapping, with a perfect whole berry in the center. One student painstakingly removed the individual knobs of a blackberry and carved minute triangles of kiwi.
Together they became a stunning flower in the center. Rather than full coverage, he went for a minimalist style; carefully crafted shapes and colors appeared to float above the cream. Applying the glaze with a pastry brush so that the tiny fragments of fruit stayed in place was a trial of patience and perseverance. Over an hour passed since the fruit came on the scene before the tartes were complete. Why was I surprised that SVS students would glance at a photo of a standard French fruit tarte, shrug, and proceed to create stunning designs that expressed their unique vision?