It's much easier to explain why having a candy store at SVS is problematic than why, year after year, the School Meeting votes to keep it in operation.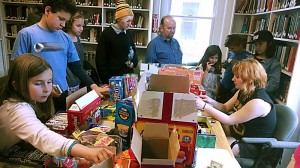 Think of how prospective parents feel when they walk into the main lounge on the way to the office at noon. Kids are gleefully purchasing a variety of candies and sodas—the kind of food many parents would rather their children avoid. They're careful to feed their children only natural foods at home, and they often try to limit the amount of fat and empty calories that are so abundant in Concession's offerings.
"How can the school allow this to happen?" they ask me, and it's not so easy to explain how for us, freedom of choice trumps good nutrition.
"Isn't the body's health number one, and isn't it the parents' responsibility to take care of their children and protect them from harming themselves?" they say. It takes quite a long discussion to convince them that SVS parents have to be able to trust their kids' judgement about things like how to spend their time, when to wear shoes and coats in the winter, and how to stay away from hazards like walking on the pond ice. (Though there is a big sign telling them when it's safe.) For some parents it is simply unacceptable to allow their kids to eat "junk foods," and they don't even consider enrolling them. It is sad for me, of course, but maybe it is best for us and the family. SVS just doesn't fit their value system, and it is better to know that earlier than later.
Now I will tell you what I love about Concession. First and foremost it is a business, totally run by students. It was conceived about 20 years ago by Mary Brigitte O'Neill. This is what happened. Long before she attended SVS, a truck which supplied lunches to road and construction workers discovered that kids at our school were good customers as well. So he parked his truck, which the students dubbed "the roach coach," on the road by the entrance to our parking lot. After a while we decided that it wasn't safe for our students to go out into the street to make their purchases, and we allowed him to park on our property.
This arrangement lasted quite a while until a new owner took over the business. He turned out to be nasty and disrespectful to our students. As we were talking about terminating our arrangement with him, Mary Brigitte made a proposal to run a concession inside the school. And it has been going strong ever since. As one team leaves, another takes over. It takes a lot of work to run this little business and some students do a better job than others. But what I love about all the people involved is the way they relate to little kids with patience and kindness. They even started a tradition that on your birthday you get a free candy!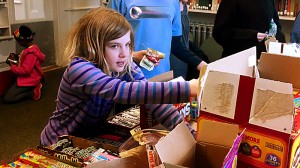 So when you walk into the school at twelve o'clock you will see how smoothly Concession operates: how kids choose what they want to buy with great care, and how people don't shove and push, but wait their turn like the calm and civilized citizens students of SVS are expected to be.
So every year, when it's time to vote for another crew to run Concession, my love of it overcomes my concerns and I happily vote "yes!"