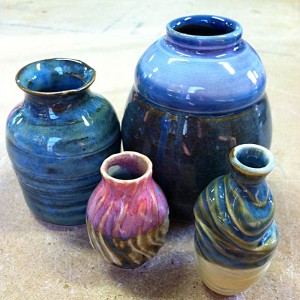 When you walk into the art room on any Monday or Wednesday, you can hear an almost constant murmur which turns out to be coming from several kids sitting at the clay table or at the two wheels working with clay. Some are throwing pots, others are making sculptures or hand building things, but they are all clamoring for Lisa Dolliver to show them something or to have her critique their work. "Lisa, Lisa" they all call out to her. And she is calm and patient and enthusiastic about their work. She just loves the medium and teaching people of all ages all kinds of techniques to create beautiful things out of the mud. But above all she loves the students. Her sincere joy in working with them is genuine and her warmth radiates to all.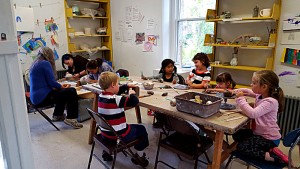 But Lisa is not only a superb mentor, she is above all a fine ceramic artist. On December 4, 2015, she had an exhibition in her studio in Maynard to celebrate her twenty-fifth year as a professional potter. The small shop was full of a large variety of her work. Some are tiny little vases not more than three inches high, others are plates and cups and bowls and vases in all kinds of shapes, colors and designs. To walk in and be surrounded with this gleaming pottery is overwhelming. To say that her creations are beautiful and interesting describes inadequately the richness of art that fills every corner of her studio.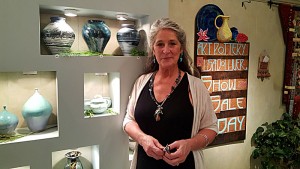 We at SVS are fortunate to have Lisa be part of our culture.